Oscar G Back at Space
Oscar G returned to Space to kick off 2016 in a big way.
Erick Morillo at Club Space For New Years Eve
Erick Morillo Returned To Club Space For a New Years Eve performance joined by Glenn Morrison along with a surprise tag-team set by Jamie Jones...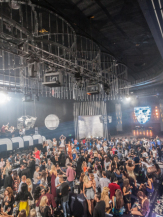 Icon Nightclub First Look
A sneak peek at Icon Nightclub on Miami Beach.
Loco Dice at Club Space for Art Basel
The world's top techno talent, Loco Dice, returned to Club Space for a special Art Basel marathon performance...