Louis Puig's Birthday at Space
Club Space celebrated the birthday of their very own Louis Puig with sounds by Vanjee, Patrick M, LP himself, Rony Seikaly, and more!
Adam Cruz's of Cocodrills Birthday
One-half of Cocodrills, Adam Cruz, celebrated his birthday on the Club Space Terrace this past weekend...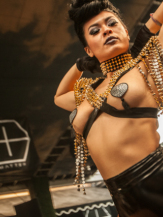 Victor Calderone presents MATTER
Victor Calderone returned to Space to present an encore edition of MATTER+ for the celebration of Louis Diaz's birthday...
Strangers and Friends Returns to Space
Your favorite theme party returned to Club Space this past weekend - with musical accompaniment by Patrick M, ALX, Bryan Sanchez, Donnie Lowe, Hugo Bianco, Allan Gallego, and more...