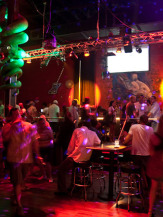 Fuck More Bitch Less at Monarchy
Great house music isn't limited to Miami in South Florida. Each and every Thursday, West Palm Beach clubgoers are treated to a plethora of sounds from noted DJ/Producer Matt Spector at his trademark Fuck More Bitch Less event at Monarchy, one of the newest venues to hit WPB's Clematis Street.
Eddy Guerra's Birthday At Aero Bar
Local nightlife impresario and jack of all trades Eddy Guerra celebrated his birthday this past Friday evening at Aero Bar, amongst a major crowd of friends and well wishers. The soundtrack for the evening was provided by Shawn Rudnick and local up-and-coming DJ duo Cocodrills...
Mark Knight at Space
After a stunning Conference performance, Mark Knight makes a quick return to Space for a marathon set of musical madness both downstairs and up...
Seal @ the Fillmore Miami Beach
Seal shines at his third performance in Miami Beach, his second at the Fillmore.