Dave Dresden Test
Dave Dresden Test Shoot.
Casa D'Amor at Aero Bar
This past Friday evening, Aero Bar's landmark event, Casa D'Amor, went off with a bang. With Shawn Rudnick at the helm all night, the crowds got down to an eclectic mix of today's hits and yesterday's classics until 5 AM...
Tony Guerra's Birthday Party
One of Miami's veteran nightlife personalities, Tony Guerra, celebrated his birthday this past Friday evening at his club, Aero Bar. In attendance amongst the throngs of well-wishers were other industry veterans, family, and friends. Meanwhile, DJ/Producers Shawn Rudnick and Bruno kept the dancef...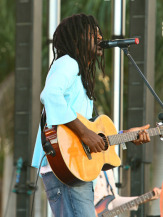 Sixteenth Annual Bob Marley Caribbean Festival
The sixteenth annual Bob Marley Caribbean Festival descended on Bayfront Park in Downtown Miami this past Saturday with an all-star lineup including Stephen Marley, Ziggy Marley, Damian Marley, Ky-Mani Marley, Capleton, Buju Banton, Jean P Jam, and many other stars of the reggae and roots rock sc...