Juicy Beach
The annual Juicy Beach party on the sands of Nikki Beach returned for WMC 2009 this past Thursday afternoon. Featuring the whole roster of Juicy artists, including Willie Morales, QBA, DMS12, and the man himself, Robbie Rivera, the legendary beach party went off with a bang to a capacity crowd...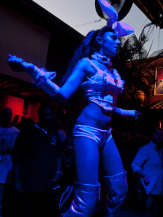 Alejandro Lazardi, Cedric Gervais, and LP at Space
Despite the Miami clubbing season drawing to a close, the crowds still showed up en masse this past Saturday evening and Sunday morning at Space. With local DJ/Producer Alejandro Lazardi holding down the main room, and Cedric Gervais and Louis Puig keeping the throngs dancing upstairs, the venue ...